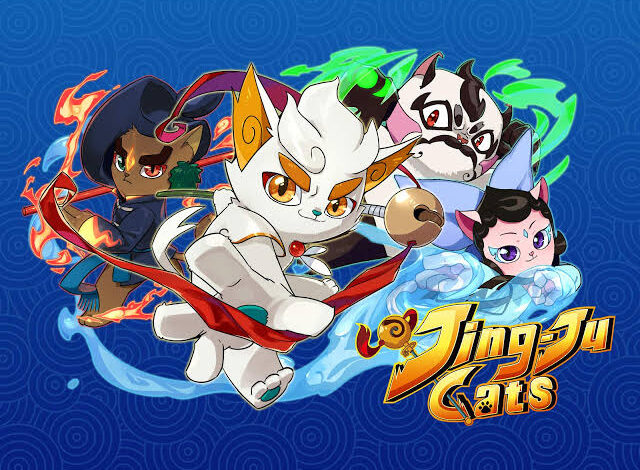 Our Telegram Channel
info :
Title:Jing- Ju Cats
Release Date:2015
SeaSon No:1
Quality:480P
Language:Tam-Tel-Mal-Kan-Hin-Eng [Multi Audio]
Size: 70 – 100Mb
Plot:Jing-Ju Cats is a series filled with comedy, magic and Kung-Fu, set in the fictional cat kingdom of Purpetua. Once known as a cat's paradise, it is now a chaotic monster-infested land where evil reigns supreme. The Dark Lord An, with his mutant monster cats, has taken over. Join the mythical Jing-Ju Cats, led by Lil' Pai, as they set out on adventures in an effort to defeat the Dark Lord.
Episodes List :
1.The Cats Awaken: The Jing-Ju Cats – [480p]
2.The last Jing-Ju cats appear – [480p]
3.The legendary gong tower is found! Part 1 – [480p]
4.The legendary gong tower is found. Part 2 – [480p]
5.Magic Gong! The Sun Shines Again! Part 1 – [480p]
6.Magic Gong: The sun shines again. Part 2 – [480p]
7.Trial! The Necessities of Life! Part 1 – [480p]
8.Trial! The Necessities of Life! Part 2 – [480p]
9.Shine Bright! THE Power of Harmony! Part 1 – [480p]
10.Shine Bright! THE Power of Harmony! Part 2 – [480p]
11.Purge! The Guardians of Mount Ba! Part 1 – [480p]
12.Purge! The Guardians of Mount Ba! Part 2 – [480p]
13.Crisis! Serendipity Part 1 – [480p]
14.Crisis! Serendipity Part 2 – [480p]
15.Team Up! Breaking the Gate Part 1 – [480p]
16.Team Up! Breaking the Gate Part 2 – [480p]
17.Square Village! The Power of Love Part 1 – [480p]
18.Square Village! The Power of Love Part 2 – [480p]
19.Challenge! The Trial Begins Part 1 – [480p]
20. Challenge! The Trial Begins Part 2 – [480p]